Product Name

Nano Disperser NLM 100

Product Name

Dispersion & Mix

Product Summary

The high pressure dispenser enables PCB control, which is highly convenient, and controls pressure and flow by adjusting the speed of the motor / Compact design for transport

Contact us

+82-42-602-8028

Application field

Used for various research purposes

맞춤

Conditions other than the standard specification can be custom-made, so please consult your sales representative.

수량
请选择购买数量。
根据您的选项设定,将自动为您添加商品!
商品详情

Dispersion & Mix
나노디스퍼져(NLM100)
Disperser with high pressure
Ultra high-pressure diffusers designed and manufactured in Ilshin Autoclave Co., Ltd.are recognized for their performance at home and abroad and are commercialized as plastic wrap and mass-production facilities in many areas. In recognition of its unique ultra-high-pressure technology in the cosmetics field, it is applied, produced, and sold for the purpose of cosmetics raw materials and emulsion. In the future, more and more cosmetics are applied with ultra-high-pressure technology, and high-quality cosmetics are expected to be manufactured and sold.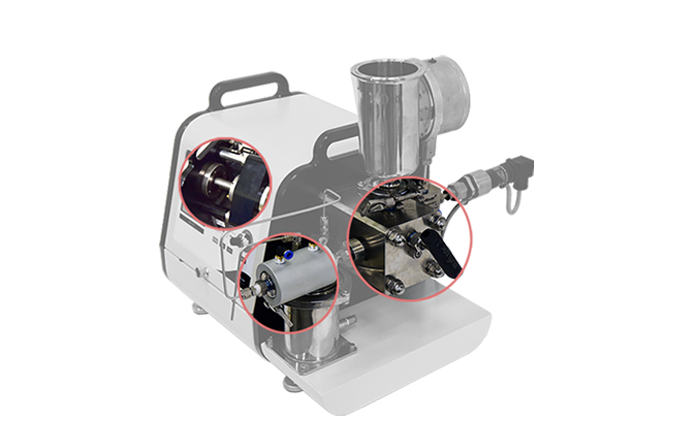 Dispersion
NLM100 Small Distributor
Superior decompression performance and fast processing speed / Contamination of raw materials, prevention of deterioration, miniaturization and increased usability
---
Detailed description
Composition specialized with long-standing know-how and technical skills
---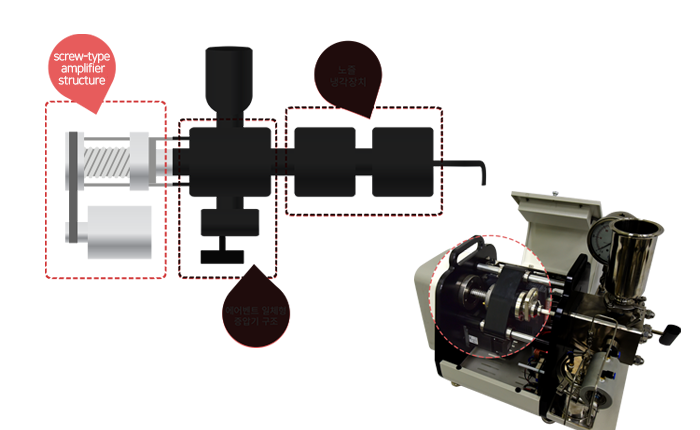 Increase the efficiency of an increase in pressure.
- Development of a screw-type amplifier that can generate high pressure (2,000 bar)

Material contamination prevention
- No leakage of hydraulic oil, etc. by adopting a power-operated system

Increase usability
- Electrically operated to simplify structure and eliminate additional facilities
- Massive reduction in volume and weight, using 220VAC as power
---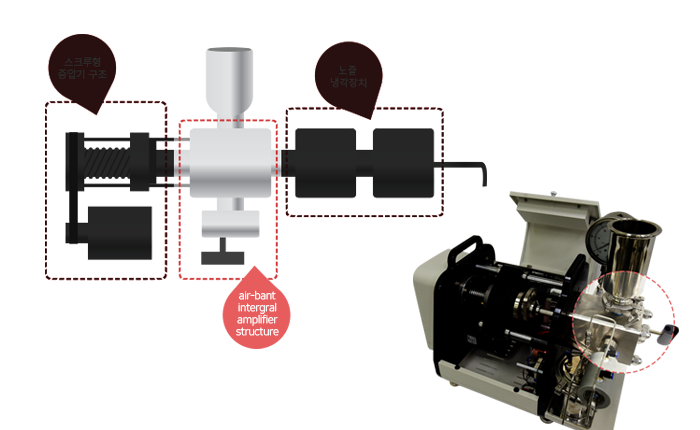 Increase the efficiency of an increase in pressure.
- Prevention of injection of raw material lines of non-pressure raw materials

Increase processing speed
- Easy to remove air from the pressurization chamber.

Increase usability
- No additional piping facilities, resulting in a significant reduction in volume.

- Use of high pressure (60,000 psi) needle valves to prevent material leakage

---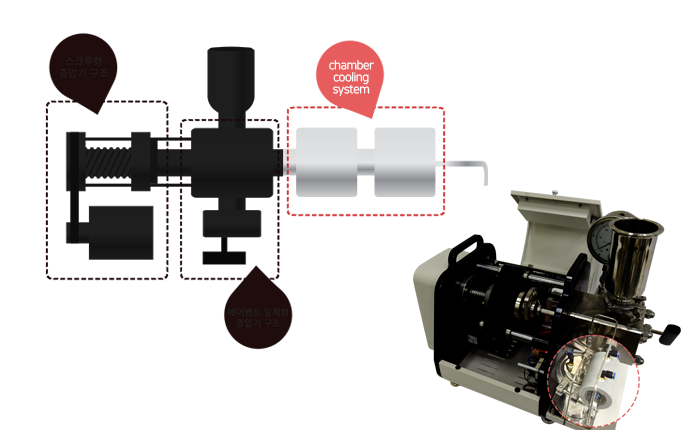 Preventing material deterioration
- Cool the nozzle to remove residual heat from the process

- Process can be applied to heat-sensitive materials

Increase usability
- Refrigerant and cooler available for your environment


- Simple structural design for easy coupling and separation

---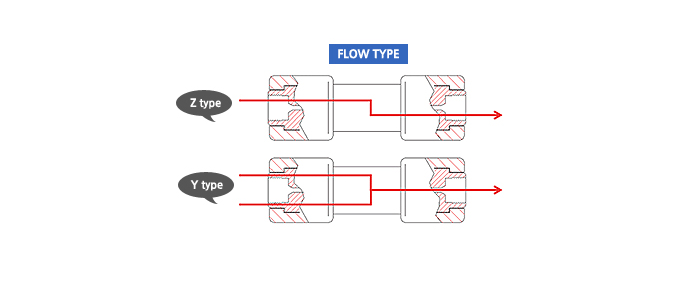 Interaction Chamber Type
Chamber Type
Z type : Suspension - Powder is recommended for dispersing and grinding on liquid, CNT, Aluminum, etc.
Y type: Emulsion - Liquid and Liquid, Recommended ex) milk, water, oil, etc.
---
Comparison of emulsified (emulsion) state elapsed
The production of emulsified fuel (diesel oil + water) using ultra-high pressure dispersion, stirrer, and ultrasonic dispersion respectively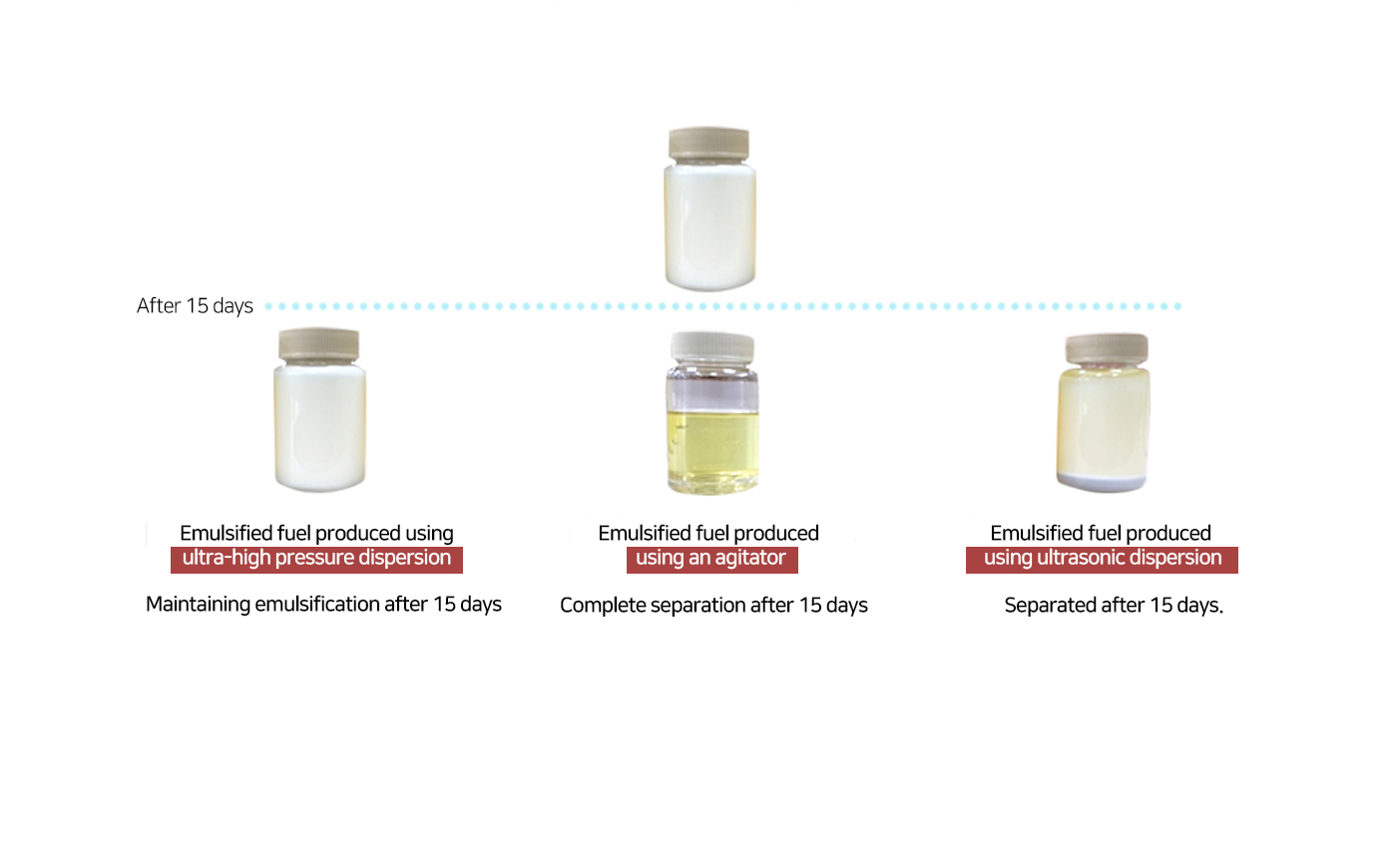 ---
Video 1
Basic Motion Video
NLM100 Basic Operation
---
Video 2
Cooling Tank Assembly Video
NLM100 Cooling Tank Assembly Process
---
Video 3
Chamber Assembly and Disassembly Video
NLM100 Chamber Assembly and Disassembly Process
| Series | Operation pressure | Flow rate | Pump system | Weight | Dimension (W x D x H) | Interaction Chamber Size | Interaction Chamber Type |
| --- | --- | --- | --- | --- | --- | --- | --- |
| NLM100 | pressure for use 1,500 bar | 100ml/min | Motor driven type [220VAC, 1PH, 60Hz, 1HP] | Approx. 45kg | 583 x 576 x 435 | 75 ㎛ | Z Type |